Водные экскурсии и прогулки на теплоходе по рекам и каналам с экскурсоводом в Санкт-Петербурге
7

Found programs
Shipping company Driver
The magic of Saint Petersburg at night
Night • 1 hour 45 minutes
Water excursion into the night city accompanied by an experienced guide is 1.5 hours of romance, fairy tales and adventures! A walk under the draw bridges, runs along the route: the Neva River - the Bolshaya Nevka River - the Neva River.
Neva travel shipping company
Northern Venice
Classical tour of the rivers and canals of St. Petersburg, accompanied by a educational excursion. This walk should become a must-see of your acquaintance with St. Petersburg!
Shipping company Driver
Northern Venice
• route along the rivers and canal • Neva, Fontanka, Moika River, Winter groove • professional guide • classic boat trip
Neva travel shipping company
Forgotten islands
One of the most picturesque sightseeing tours. In addition to the attractions of the ceremonial Neva you will see the palaces and parks of Krestovsky, Elagin and Kamenny Island. The itinerary is accompanied by a professional guide. Itinerary with a stop on Elagin Island.
Shipping company Driver
The return to Antique Saint Petersburg
• the longest canal route • along the Griboedov canal • Neva, Fontanka, Моyka river, Kryukov's canal, Winter canal • lowest bridges • unique route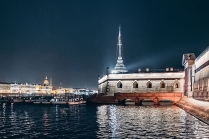 Shipping company Driver
Overnight visit and excursion to the closed Peter and Paul Fortress and drawbridges boat tour
• unique tour • night walking tour of the Peter and Paul Fortress • boat trip from the Neva Gate of the fortress under drawbridges • you will see the breeding of 2 bridges • professional guide