Buy ticket online
Preferential
1045 ₽

700 ₽
Children's
Up to 12 years
855 ₽

400 ₽
Children up to 5 years FOR FREE
Russian's Navy Day Parade
Neva travel shipping company
Guide on board
Toilet
Duration 50 minutes
Excursion languages – Русский
Regularity July 25 and 26
Free return 3 hours before the tour
The price is lower than on the pier
On July 25 and 26 2020 we invite everyone to visit the fascinating water excursion "Parade of warships" dedicated to the Day of the Navy. On the central area of the river of Neva you will see warships that participated in the Second World War.
Day of the Navy in 2020 - the 323-nd time - exactly this time has passed since the victory of Peter the Great in the battle of the Sea of Azov! The transfer of the capital to St. Petersburg made the city the maritime centre of the country, in which the largest shipbuilding admiralty of Russia is located till nowadays.
The route passes around warships in the water area of the Neva, from the Annunciation Bridge to the Cruiser Aurora.
Duration of the tour is 50 minutes.
Excursions starts according to the schedule from "Senatskaya Pier" and "Dvortsovaya Pier".
Cruiser Aurora
St Isaac`s Cathedral
Peter and Paul Fortress
The Admiralty
Academy of Sciences
Academy of Arts
Burse
Bronze Horseman
Cabinet of Curiosities (Kunstkammer)
Menshikov palace
Rostral column
Senate and Synod building
Winter Palace
Marble palace
Summer Garden
Boat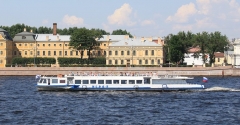 Type
Bar

No
Blankets

No
Restroom

Yes
Read more about the boat
Rating and reviews
Thanks for the feedback.
We will read it and publish it.
Top 5 programs according to passengers