Buy ticket online
Preferential
2340 ₽

2300 ₽
Children's
Up to 12 years
1260 ₽

1400 ₽
Children up to 2 years FOR FREE
трансфер Санкт-Петербург - "Орешек" - Санкт-Петербург
Neva travel shipping company
В крепость "Орешек"
Duration 1 hour 15 minutes
Excursion languages –
Regularity по расписанию
Free return 3 hours before the tour
The price is lower than on the pier
Увлекательное путешествие в древнюю русскую крепость "Орешек", расположенную в истоке Невы на Ореховом острове.
При посещении крепости "Орешек" у вас будет возможность осмотреть территорию, сохранившиеся помещения политической тюрьмы, монументов и крепостных укреплений.
Наше скоростное судно заберет вас из центра Петербурга и доставит до пристани крепости "Орешек" за 1ч.15 мин.
Во время рейса вас будет сопровождать фоновая музыка и демонстрация видео материалов.
Время и причал отправления: 10:45 «Румянцевский спуск», 11:00 «Зимняя канавка»
Программа:
12:15 Прибытие в Орешек
12:15 – 15:00 Свободное время
15:00 – 15:10 Посадка на скоростное судно
15:10 Отправление от причала
15:10 – 16:15 Трансфер до СПб, высадка на причалах «Румянцевский спуск» и «Зимняя Канавка»
Внимание!
1. В стоимость билета на скоростное судно НЕ ВХОДИТ стоимость билета в крепость «Орешек».
2. Доступна покупка билетов на трансфер только в обе стороны (туда и обратно).
Cruiser Aurora
St Isaac`s Cathedral
The Admiralty
Academy of Sciences
Burse
Bronze Horseman
Rostral column
Vansu bridge
Boat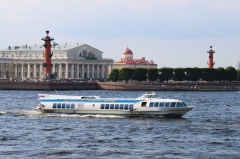 Type
Bar

No
Blankets

No
Restroom

Yes
Read more about the boat
Rating and reviews
Thanks for the feedback.
We will read it and publish it.
Top 5 programs according to passengers