Preferential
1188 ₽

1250 ₽
Children's
Up to 12 years
950 ₽

1000 ₽
Children up to 5 years FOR FREE
Forgotten islands
Neva travel shipping company
Guide on board
Toilet
Comfortable armchairs
blankets for sale
Duration 2 hours
Excursion languages – Русский
Regularity every hour
Free return 3 hours before the tour
The price is lower than on the pier
It's the most picturesque naval route in Saint Petersburg. Apart from the main sights of the northern capital, you will see Krestovskiy, Elagin and Kamenniy islands. Antique parks, luxurious summer palaces of Saint Petersburg aristocracy – all those beauties are often left aside of the walked touristic paths. Don't miss your chance to visit beloved places of citizens' resort since 18th century until the present day!
Famous sights of Grand Neva river
Cruiser embarks from the Palace or Senate quays within 10-minute difference. It will take you across the main Neva river aquatorium, so called imperial or façade Petersburg. Our guide will tell you the history of the city since the foundation until the days of great emperors. From the best spot you will see Peter and Paul fortress, Winter palace, Marble palace, Old Saint Petersburg Stock Exchange and Rostral Columns, will pass under the Palace bridge.
From the Grand Neva river to Bolshaya Nevka
Having passed Old Saint Petersburg Stock Exchange and "Flying Dutchman" sail ship, the cruiser will sail to Bolshaya Nevka. You will get to know the history of the oldest territories of Saint Petersburg – Petrogradsky district and Vasilievsky island. Bolshay Nevka is a naval center of Saint Petersburg, you will see shipyards, docks and yacht-clubs located on its banks.
Still beauty of Finnish gulf
The grandeur of Finnish gulf is best to experience from the broadsides of cruisers. Once upon a time the history of Saint Petersburg has begun there. Today, you will see a modern city and its architecture – new Saint Petersburg Arena stadium, Western High-Speed diameter, Lahta-Center.
Picturesque islands
If you haven't yet seen the intrinsic greenery of Krestovskiy, Elagin and Kamenniy islands, you haven't seen the most picturesque spots of Saint Petersburg. Those place have been the centers of citizens' resort, and magnificent countryside palaces of Elagin and Kamenniy, antique parks, numerous floating restaurants have witnessed this history.
There is a stop on Elagin island where you may get off the cruiser and take a walk around the parks.
(Attention: tickets are invalid for further travel)
Malaya Nevka and Grand Neva river
The journey back to the aquatorium of Grand Neva will take us through Malaya Nevka. You will see Botanical Garden, you will learn how the Nobel family is linked to Saint Petersburg. From the water you will see Aurora cruiser and Nakhimov Naval School. After that the cruiser will sail back to Grand Neva passing the Trinity bridge. And then, sailing past Summer Garden and Peter and Paul fortress will take you back to the point of departure.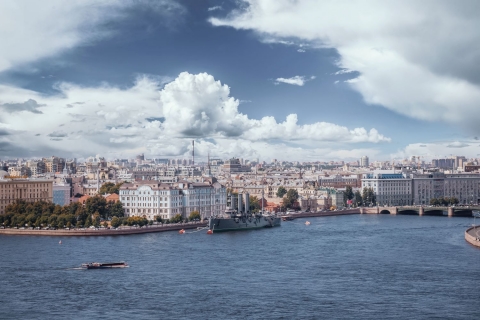 Cruiser Aurora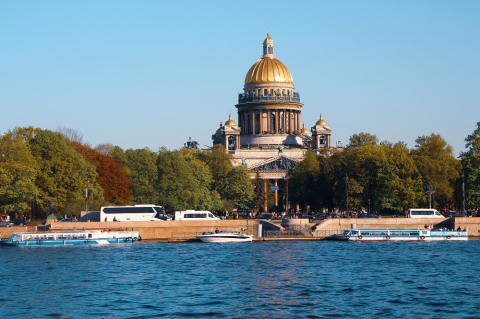 St Isaac`s Cathedral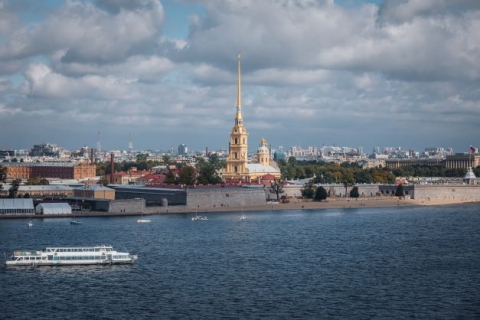 Peter and Paul Fortress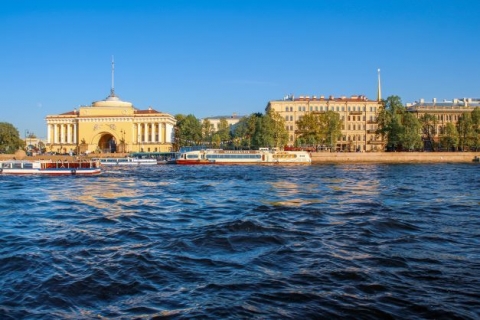 The Admiralty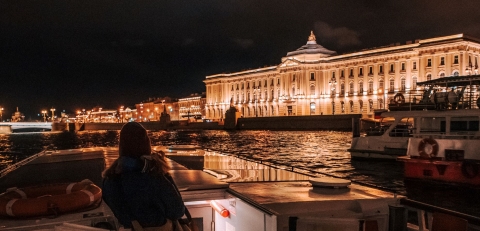 Academy of Sciences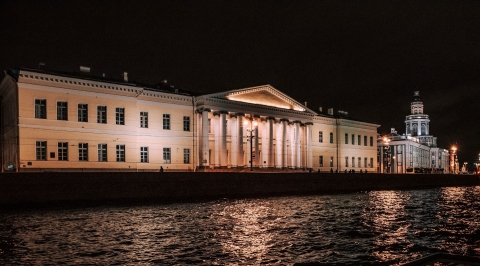 Academy of Arts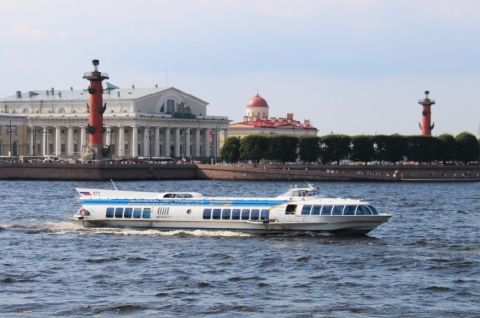 Burse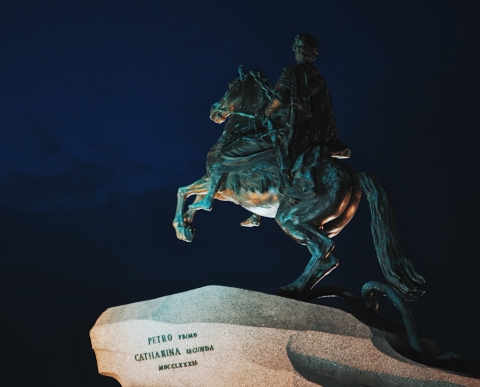 Bronze Horseman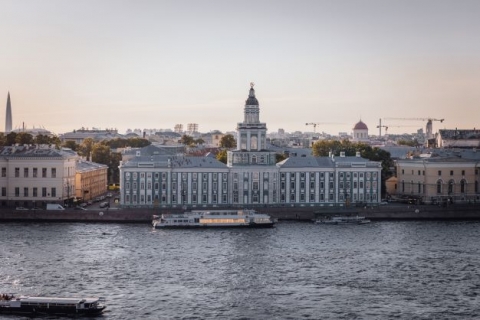 Cabinet of Curiosities (Kunstkammer)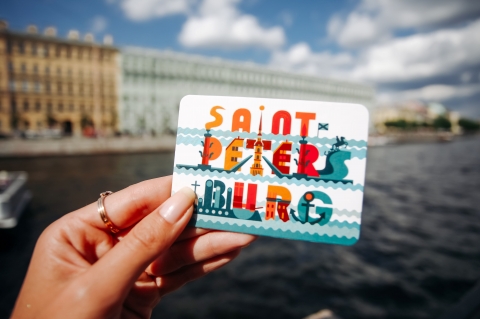 Menshikov palace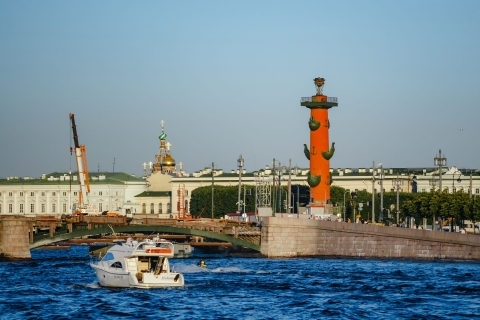 Rostral column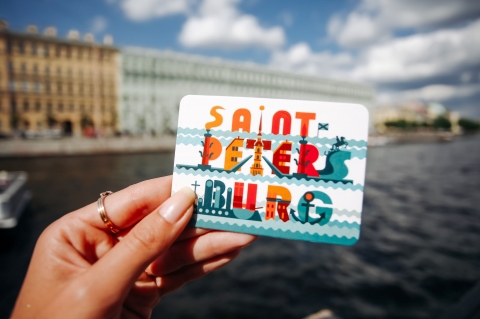 Senate and Synod building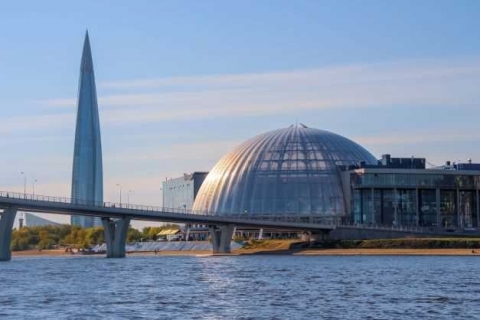 Park 300th anniversary of St. Petersburg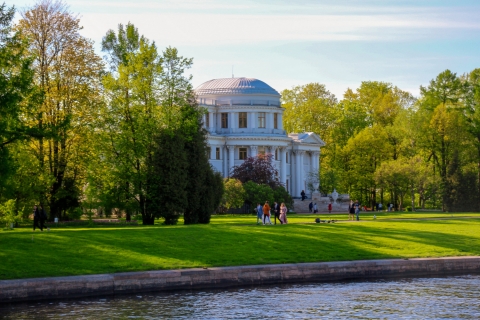 Elagin Palace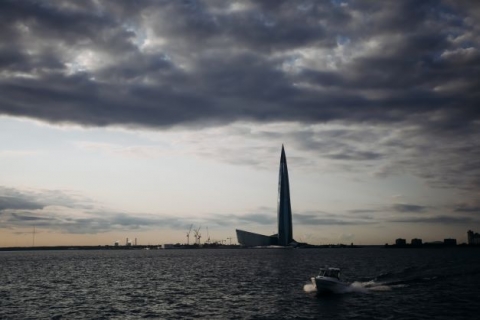 Lakhta center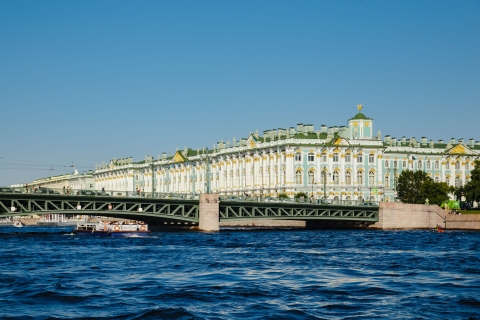 Winter Palace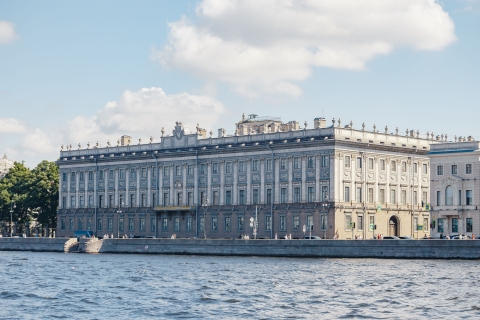 Marble palace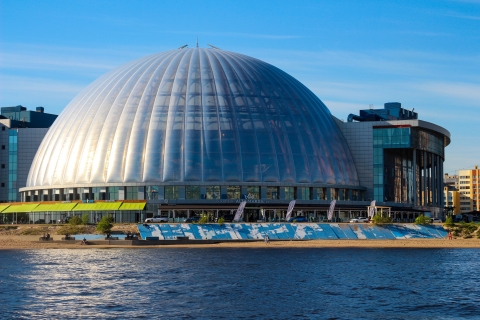 Waterpark Piterlend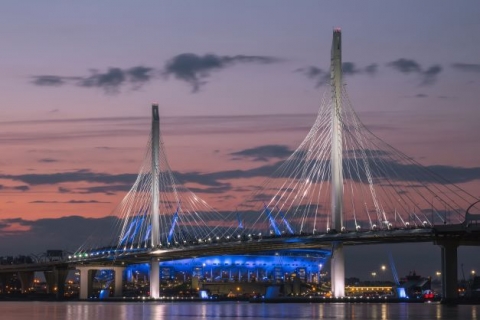 Stadium "St. Petersburg Arena"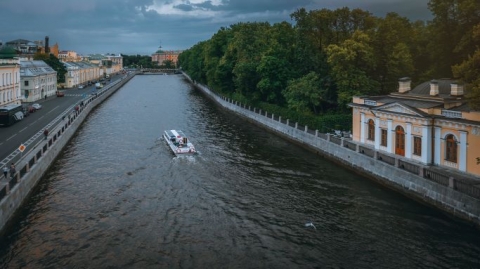 Summer Garden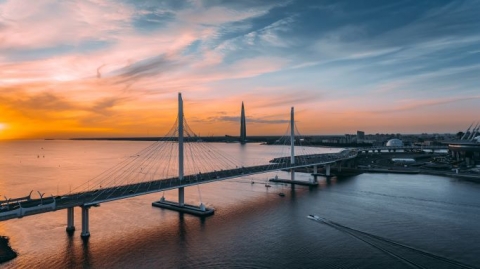 Vansu bridge
Boat: Neva-5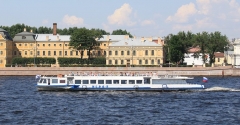 Type
Bar

No
Blankets

No
Restroom

Yes
Read more about the boat
Rating and reviews
Thanks for the feedback.
We will read it and publish it.
Top 5 programs according to passengers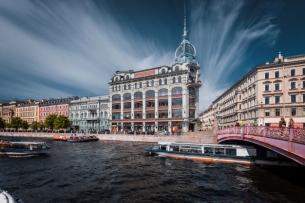 Neva travel shipping company
Northern Venice
Classical tour of the rivers and canals of St. Petersburg, accompanied by a educational excursion. This walk should become a must-see of your acquaintance with St. Petersburg!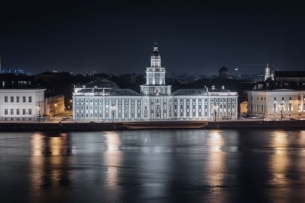 Neva travel shipping company
Romantic saxophone
Romantic night walk on the ship accompanied by live saxophone music along the rivers and canals of the city with an exit to the Neva River to watch the show of drawbridges.