Метеоры в Петергоф из Санкт-Петербурга и из Санкт-Петербурга в Петергоф | Цены, покупка билетов, маршруты
5

Found programs
Neva travel shipping company
Excursion to Kronstadt on a hydrofoil with a visit into the Naval Cathedral and the monastic meal
An eventfull trip to Kronstadt from the centre of St. Petersburg on a hight-speed boat. The ticket price includes a round-trip transfer, an excursion to the Naval Cathedral of St. Nicholas with the ascent to the dome, a walk in the surroundings and a monastic lunch.
Neva travel shipping company
Saint Petersburg – Peterhof (there and back again)
The fastest and most comfortable way to the famous Kingdom of Fountains is the magnificent Peterhof on the meteor - along the Neva and the Gulf of Finland. One way travel time is 40 minutes.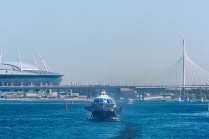 Neva travel shipping company
Peterhof - Saint Petersburg
A high-speed hydrofoil from Peterhof to the very center of St. Petersburg. Travel time is only 40 minutes!