Buy ticket online
Preferential
1260 ₽

1100 ₽
Children's
Up to 12 years
810 ₽

800 ₽
Children up to 5 years FOR FREE
Cruise Night Saxophone
Neva travel shipping company
Night cruise under drawing bridges
Saxophone
Toilet
Duration 2 hours 30 minutes
Excursion languages –
Regularity Ежедневно
Free return 3 hours before the tour
The price is lower than on the pier
Отправляйтесь в ночной круиз на теплоходе под разводными мостами в сопровождении саксофонной музыки.
Успейте сделать на память фото ночного Петербурга с самого выгодного ракурса.
Маршрут осуществляется на комфортабельном двухпалубном теплоходе.
Все ночные прогулки проводятся независимо от того, осуществляется ли разводка мостов в эту ночь! С актуальной информацией о разводке мостов на дату прогулки можно ознакомиться на сайте Мостотреста.
В дни государственных праздников Российской Федерации: 1, 9 мая и 12 июня мосты НЕ разводят!
В поездку стоит взять с собой тёплые вещи, так как на воде ночью даже летом бывает довольно прохладно.
О мерах предосторожности, которые будут действовать:
1) на причалы и теплоходы допускаются пассажиры только в масках и перчатках
2) при входе на причал и теплоходы проводится термометрия всех пассажиров бесконтактными термометрами. При температуре тела выше 37,2, а также отказавшиеся от измерения пассажиры на причал и теплоход не допускаются
3) запрещено проносить на борт теплохода еду и напитки.
В дни государственных праздников Российской Федерации: 1, 9 мая и 12 июня мосты НЕ разводят
Cruiser Aurora
Peter and Paul Fortress
The Admiralty
Academy of Sciences
Academy of Arts
Burse
Bronze Horseman
Cabinet of Curiosities (Kunstkammer)
Rostral column
Winter Palace
Boat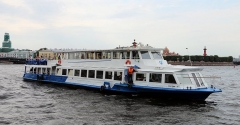 Type
Bar

No
Blankets

No
Restroom

Yes
Read more about the boat
Rating and reviews
Thanks for the feedback.
We will read it and publish it.
Top 5 programs according to passengers