Buy ticket online
Children's
Up to 12 years
585 ₽

200 ₽
Children up to 5 years FOR FREE
Трансфер Stereoleto
Neva travel shipping company
Toilet
Duration 25 minutes
Excursion languages –
Regularity 5-6 сентября 2020
Free return 3 hours before the tour
The price is lower than on the pier
Приглашаем Вас отправится на фестиваль STEREOLETO 2022 на двухпалубном теплоходе от Английской пристани (Английская наб., д. 28). Данный рейс доступен ТОЛЬКО для тех, у кого уже куплен билет на фестиваль.
Приплыть на фестиваль на теплоходе - самый необычный способ добраться до места и уже на борту под фоновую музыку окунуться в музыкальную атмосферу праздничного уикэнда.
Фестивальная площадка Tinkoff STEREOLETO в 2022 году – это огромная территория, разнообразные крытые и открытые лаунж-зоны, традиционные stereofood, stereomarket, stereofun!
12 июня:
The Hatters, Жанна Агузарова, Дайте танк !, Shortparis, IOWA, Dead Blonde, Lucidvox, Super Collection Orchestra, Перемотка, Zarya, M'Dee, Макодзеба, Stereotypes, Космос на потолке, Mika Vino, Сезон Dождей, BLIZKEY и нееет, ты что
13 июня:
Леонид Агутин, Manizha, SQWOZ BAB, Найк Борзов, Pompeya, Парнишка, АВИА, Жвака Галз, Диктофон, Harajiev Smokes Virginia, Созвездие Отрезок, Стереополина, Андреграунд, Семь Ножей, The OMY, UBEL, Forest Tiger Friend & Owl Helper и Видеокассета твоих родителей
ВНИМАНИЕ! На эти билеты не действуют скидочные промокоды и подарочные сертификаты.
При посадке на борт необходимо предъявление билета на фестиваль.
Peter and Paul Fortress
The Admiralty
Academy of Sciences
Academy of Arts
Vansu bridge
Sevcable Port
Boat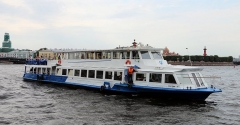 Type
Bar

No
Blankets

No
Restroom

Yes
Read more about the boat
Rating and reviews
Thanks for the feedback.
We will read it and publish it.
Top 5 programs according to passengers