There

990 ₽

1100 ₽
There and back again

1485 ₽

1650 ₽
Buy ticket online
Preferential
There

810 ₽

900 ₽
There and back again

1215 ₽

1350 ₽
Children's
Up to 12 years
There

540 ₽

600 ₽
There and back again

810 ₽

900 ₽
Children up to 2 years FOR FREE
трансфер из Кронштадта в СПб
Neva travel shipping company
Comfortable armchairs
To Kronshtadt
Duration 1 hour
Excursion languages –
Regularity по расписанию
Free return 3 hours before the tour
The price is lower than on the pier
Трансфер на скоростном метеоре самый удобный способ добраться из города Морской Славы Кронштадта в центр Санкт-Петербурга.
Для Вашего удобства доступны для покупки рейсы от двух причалов: "Зимняя пристань" и "Остров Фортов".
Будьте внимательны при выборе причала. Посадка на метеор осуществляется с того причала от которого у Вас приобретён билет.
Приятного путешествия!
Внимание! При отправлении от причала "Острова Фортов" из Кронштадта в Петербург: подход к причалу завершается за 25 минут до отправления метеора. Сбор группы для прохода к метеору за 25 минут до рейса у офиса продаж компании "Нева Тревел" в конце Аллеи Героев парка "Остров Фортов", там же можно задать любые вопросы, получить посадочные билеты. Далее сотрудник компании сопровождает группу на причал по дамбе. Просим надевать удобную обувь, так как у причала крутой трап.
Cruiser Aurora
St Isaac`s Cathedral
Peter and Paul Fortress
The Admiralty
Academy of Sciences
Academy of Arts
Burse
Bronze Horseman
Cabinet of Curiosities (Kunstkammer)
Rostral column
Winter Palace
Marble palace
Kronstadt
Boat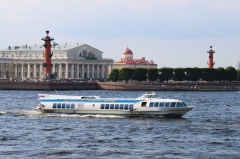 Type
Bar

No
Blankets

No
Restroom

Yes
Read more about the boat
Rating and reviews
Thanks for the feedback.
We will read it and publish it.
Top 5 programs according to passengers