Buy ticket online
Children's
Up to 12 years
585 ₽

360 ₽
Children up to 5 years FOR FREE
The bridges drawn above the Neva
Neva travel shipping company
Audioguide
Toilet
Comfortable armchairs
Duration 1 hour 30 minutes
Excursion languages – Русский
Regularity Everyday 00:50
Free return 3 hours before the tour
The price is lower than on the pier
Overnight excursion on a comfortable double-deck cruise ship is a marvelous opportunity to witness 4 bridges being drawn: Palace bridge, Trinity bridge, Liteyniy bridge, Bridge of Peter the Great.
Grand Neva and drawn bridges
The route will take you through Neva river from Annunciation bridge to Smolny Convent. The route takes place in the aquatorium of Grand Neva; spectacular embankments, Old Saint Petersburg Stock Exchange and Rostral Columns, Winter palace, Peter and Paul fortress will appear in front of the passengers. The cruise ship will reach the famous Aurora cruiser, where it will take a turn back and sail up the stream towards the moveable feast on Neva river – drawn bridges.
Bridges are drawn starting from the port side, so the cruiser will take you through Neva river past the Palace bridge. It will be the first drawn bridge to be seen, with its classic double-wing construction, then Trinity bridge with it's single-wing construction will be drawn as well. With the bridges having drawn, the cruiser will cross them once again.
It's thought by many that the wish made beneath a drawn bridge will definitely come true! After all the passengers have made their wishes, the cruiser will take you to the next bridge – Liteyniy.
On the way to Smolny Convent the passengers will gaze upon two more drawn bridges. The cruise ship will sail beneath three-span Bridge of Peter the Great. There's a legend that one of the rivets there is golden. After the cruise ship will take a back turn and will sail to the point of departure. On their way back the passengers will see Smolny Convent at its prime.
Our journey will be comfortable in any weather conditions, if the night is warm you may sit on the deck, but if it gets chilly you'll be able to move inside the glazed interiors of our cruiser at any moment.
The journey is accompanied by the audio excursion.
Cruiser Aurora
St Isaac`s Cathedral
Peter and Paul Fortress
The Admiralty
Academy of Sciences
Academy of Arts
Burse
Bronze Horseman
Cabinet of Curiosities (Kunstkammer)
Menshikov palace
Rostral column
Senate and Synod building
Winter Palace
Kresty Prison
Alexander Nevsky Lavra
Marble palace
Smolny cathedral
Summer Garden
Boat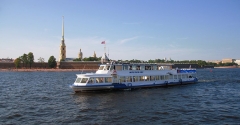 Type
Bar

No
Blankets

No
Restroom

Yes
Read more about the boat
Rating and reviews
Thanks for the feedback.
We will read it and publish it.
Top 5 programs according to passengers