Buy ticket online
Children's
Up to 12 years
360 ₽

400 ₽
Children up to 5 years FOR FREE
Форты Кронштадта
Neva travel shipping company
Guide on board
Bar
Day tour
Toilet
Duration 45 minutes
Excursion languages – Русский
Regularity Ежедневно, по расписанию
Free return 3 hours before the tour
The price is lower than on the pier
Приглашаем Вас посетить экскурсию "Форты Кронштадта". Наш двухпалубный теплоход отправится от причала "Остров Фортов", расположенного на Форте Пётр I, обойдёт Форт Александр I "Чумной" и пройдёт мимо знаменитых фортификационных сооружений Кронштадта: Форт Кроншлот, Форт Павел I, Форт Милютин, форт Константин после чего вернётся к причалу отправления. На протяжении всей поездки Вас будет сопровождать увлекательный рассказ экскурсовода.
Внимание! При отправлении от причала "Острова Фортов" в Кронштадте: подход к причалу завершается за 25 минут до отправления теплохода. Сбор группы для прохода к теплоходу за 25 минут до рейса у офиса продаж компании "Нева Тревел" в конце Аллеи Героев парка "Остров Фортов", там же можно задать любые вопросы, получить посадочные билеты. Далее сотрудник компании сопровождает группу на причал по дамбе. Просим надевать удобную обувь, так как у причала крутой трап.
Kronstadt
Boat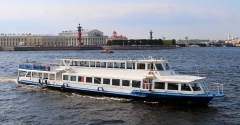 Type
Bar

Yes
Blankets

No
Restroom

Yes
Read more about the boat
Departure pier
Rating and reviews
Thanks for the feedback.
We will read it and publish it.
Top 5 programs according to passengers