Водные экскурсии и прогулки на теплоходе по рекам и каналам с музыкальным сопровождением в Санкт-Петербурге

4

Found programs
Neva travel shipping company
Cruise Night Saxophone
The night saxophone cruise program, accompanied by live saxophone music, will take place on two-deck vessels. Duration 2, 5 hours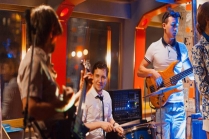 Neva travel shipping company
Night cruise-conсert
Night • 2 hours 30 minutes
• live music on board • dance hits of the 21st century • 5 drawbridges on the way • double-deck boat • open and closed decks
Neva travel shipping company
Musical cruise
Evening water tour along the Neva and the Gulf of Finland, accompanied by live music. From the ship there is a beautiful view of the main city center and the expanses of the Gulf of Finland. The route is carried out on the club ship Element.
Neva travel shipping company
Romantic saxophone
Finished until navigation 2019. Romantic night walk on the ship accompanied by live saxophone music along the rivers and canals of the city with an exit to the Neva River to watch the show of drawbridges.