Buy ticket online
Children's
Up to 12 years
405 ₽

450 ₽
Children up to 2 years FOR FREE
The return to Antique Saint Petersburg
Guide on board
Toilet
Duration 1 hour 30 minutes
Excursion languages – Русский
Regularity Every 2 hours
Free return 3 hours before the tour
The price is lower than on the pier
Unique features of the route: you are going to have a unique journey through Griboedov's canal passing beneath the low arcs of its 12 famous bridges. There's no passing for ordinary naval vehicles but our company has special cruise ships that will smoothly take you beneath even the lowest bridge of Saint Petersburg – Kazan's bridge.
Fascinating naval journey through Griboedov's canal
A leisurely journey through Griboedov's canal can't be compared to taking a walk by foot. The charm of the old 18-19 century city will accompany you, telling its secrets, taking you into the centuries passed.
This journey is similar to an animated book. You will see the buildings that Dostoevskiy inhabited with Sonya Marmeladova and an elderly pawnbroker. Windows overlooking the canal that were loved by Pushkin, Griboedov, Gogol, Tchaikovsky, Zoshenko and Akhmatova…
You will sail beneath the first stone bridge of Saint Petersburg that has remained unchanged since the 18th century. You will take pleasure in looking at the golden wings of Bank bridge lions… But let's not rush ahead because you will hear a fascinating talk from our guide about all the sights of the route.
"The return to Antique Saint Petersburg" route
The route begins from Neva river. You'll sail through the main naval arteries of the city: Neva river – Fontanka river – Kryukov's canal – Griboyedov's canal – Moyka river – Winter canal.
Along the Neva river banks you will the grand imperial Petersburg: Peter and Paul fortress, Old Saint Petersburg Stock Exchange and Rostral Columns, Senate square and Bronze Horseman, Admiralty building, Winter palace, Marble palace and the marvelous railing of Summer Garden.
Then the cruise ship will sail to Fontanka river with the buildings from Peter the Great's era – Summer and Sheremetiev palaces, St. Michael's Castle, Anichkov palace,  Beloselsky-Belozersky palace, famous equestrian sculptures of Peter Clodt on Anichkov bridge.
Further on the route – Kryukov's canal and Griboedov's canal where, as you remember, the entrance for numerous touristic ships is forbidden. You will see the famous seven bridges from a crossing between two canals. You will sail past St. Nicholas Naval Cathedral and Kazan Cathedral, The Church on the Spilled blood, famous Book house.
The cruise ship will sail through Moyka river past the memorial flat of Alexander Pushkin, and further – through Winter canal under the Hermitage bridges into the aquatorium of Neva river, where you will once again see the grandeur of Saint Petersburg. 
Cruiser Aurora
Church of the Savior on Spilled Blood
Gryphons
St Isaac`s Cathedral
Peter and Paul Fortress
The Admiralty
Academy of Sciences
Academy of Arts
Burse
Bank bridge
Bronze Horseman
Cabinet of Curiosities (Kunstkammer)
Menshikov palace
Rostral column
Senate and Synod building
Аничков дворец
Anichkov bridge
Beloselskiy-Belozerskiy Palace
Chizhik Pyzhik monument
Bolshoi St Petersburg State Circus
Museum-Manor G.P. Derzhavin
Bolshoy drama theatre
Egyptian Bridge
Faberge museum
Winter Palace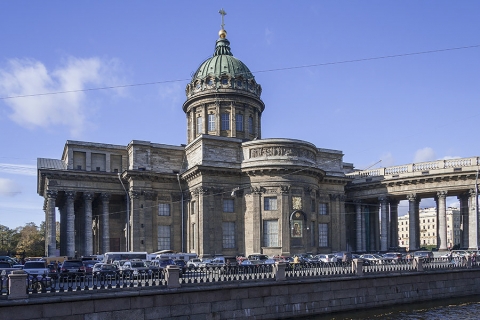 Kazan cathedral
Lion bridge
Marble palace
Theatre Mariinsky
The Mikhailovsky castle
Nicholas Naval Cathedral of The Epiphany
Stroganov Palace
Summer Garden
Trinity Cathedral
Usupov palace
Pushkin Memorial Apartment
Boat
Type
Bar

No
Blankets

No
Restroom

Yes
Read more about the boat
Route
Universitetskaya embankment 3
Departure pier
Peter and Paul Fortress, Komendantskaya Pier (meeting of the tour "Visiting the night fortress" at the Ioannovsky bridge)
Rating and reviews
Thanks for the feedback.
We will read it and publish it.
Тимофей
Tour Date:
Все семейство в восторге от прогулки - очень ухоженный небольшой кораблик , экскурсовод не занудный мямля, а очень энергичная эрудированная и позитивная дама. Маршрут красивый очень. Короче отдых удался на 5+
Translate
Юлия
Tour Date:
Очень понравилась экскурсия "Возвращение в старый Петербург". Маршрут проходит по Неве, Фонтанке и Грибоедовскому каналу, очень красивые виды города, прекрасный экскурсовод, (не аудиогид) рассказала много интересных фактов из истории города, связанных с местами, мимо которых мы проплывали во время нашего путешествия. Рекомендую.
Translate
Top 5 programs according to passengers