Buy ticket online
Children's
Up to 12 years
180 ₽

450 ₽
Children up to 5 years FOR FREE
Трансфер на Stereoleto 2021
Neva travel shipping company
Day tour
Toilet
Duration 25 minutes
Excursion languages –
Regularity 13-14 июня 2021 года
Free return 3 hours before the tour
The price is lower than on the pier
Swim on Stereoleto and join the festival on the boat, if you already have festival tickets, then this program is for you! 
Attention! Ticket to the ship does not include a ticket to the festival! There are no festival tickets available on the pier.
July 6-7, the Tinkoff STEREOLETO festival takes place in Sevkable Port, the harbor of Vasilyevsky Island with the most fantastic view of the Neva and the Gulf of Finland. Sailing to the festival by boat is the most unusual way to get to the place and already on board, under the music of DJ from Stereoleto, plunge into the musical atmosphere of the summer weekend.

The ship leaves from the very centre of St. Petersburg "Senatskaya pier", and arrives at the pier directly to Sevkable Port.

On board, music from DJ Stereoleto and a bar from Fernanda partners are waiting for you.

At the exit of the ship, be sure to show your tickets to get bangles for the festival.
The Admiralty
Academy of Sciences
Academy of Arts
Bronze Horseman
Cabinet of Curiosities (Kunstkammer)
Menshikov palace
Senate and Synod building
Vansu bridge
Sevcable Port
Boat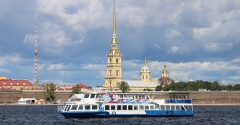 Type
Bar

No
Blankets

No
Restroom

Yes
Read more about the boat
Rating and reviews
Thanks for the feedback.
We will read it and publish it.
Top 5 programs according to passengers