Buy ticket online
Children's
Up to 12 years
495 ₽

360 ₽
Children up to 5 years FOR FREE
Northern Venice
Neva travel shipping company
Guide on board
Toilet
Duration 1 hour 15 minutes
Excursion languages – Русский
Regularity Every hour
Free return 3 hours before the tour
The price is lower than on the pier
When there's neither time nor energy to seize the unseizable – start with the on board sightseeing. "Northern Venice" excursion is a visitation landmark across the main rivers and canals of Saint Petersburg: Fontanka river, Kronverkskiy canal and grand Neva river. Just in an hour you'll see all the main sights of the city while our guide will be telling you more than a few exciting stories.
Let's imagine how it will happen…
Fontanka river. Your journey will start at the quay of Anichkov bridge, which is located at the very corner of Nevsky prospect and Fontanka river embankment. You, as if in a time machine, will see the milestones of city's development. Sheremetyev's palace, which was given as a gift for the reclamation of swampy lands from Peter the Great, as well as Anichkov palace of Russian Royal family, Beloselsky-Belozersky palace, Mikhailovskiy castle will float beside you.
Grand Neva river: In the beginning of your journey you will lay your eyes upon the facades of Saint Petersburg. It's a view to die for, from the luxurious estates of the Neva's embankment. You will see Peter and Paul fortress – the place of the foundation of our city. Gaze at the glory and subtleness of Summer Garden railing, the very one chanted by a famous Russian poet Alexander Pushkin. Old Saint Petersburg Stock Exchange and Rostral Columns, Winter palace and Kunstkamera will be seen in their prime glory.
The ship will pass around the Peter and Paul Fortress along the narrow Kronverkskiy Canal past the Petrograd side.
And Fontanka river again.
In the end of your journey you sail once again along the banks of Fontanka river , past Summer Garden, palace of Peter the Great, tiny but beloved monument of Tschischik-Pyschik (Yellowbird the Puffer, character of Russian folk rhymes) and St. Michael's Castle.
You journey will take place in any weather conditions – cruisers have decks and comfortable glazed interior spaces.
Cruiser Aurora
St Isaac`s Cathedral
Peter and Paul Fortress
The Admiralty
Academy of Sciences
Academy of Arts
Burse
Bronze Horseman
Cabinet of Curiosities (Kunstkammer)
Menshikov palace
Rostral column
Аничков дворец
Anichkov bridge
Beloselskiy-Belozerskiy Palace
Chizhik Pyzhik monument
Bolshoi St Petersburg State Circus
Museum-Manor G.P. Derzhavin
Bolshoy drama theatre
Egyptian Bridge
Faberge museum
Winter Palace
Marble palace
Theatre Mariinsky
The Mikhailovsky castle
"New Holland" island
Nicholas Naval Cathedral of The Epiphany
Stroganov Palace
Summer Garden
Trinity Cathedral
Usupov palace
Pushkin Memorial Apartment
Boat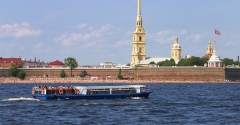 Type
Bar

No
Blankets

No
Restroom

Yes
Read more about the boat
Route
Moyka River Embankment 52
Rating and reviews
Thanks for the feedback.
We will read it and publish it.
Александр
Tour Date:
Приезжали в Питер в конце октября, не самая выгодное время для прогулки на кораблике, но все таки решились. Выбрали на сайте, подтверждение пришло сразу же после оплаты. Погода продолжала хмурится... Жена позвонила в колл-центр узнать про корабль - насколько холодно на самом теплоходе - там милая девушка заверила что в салоне тепло, но пледы к сожалению не выдают из-за ограничений по Ковиду. Все равно оделись как на полюс и поехали. Не пожалели ни разу: никаких проблем на посадке - просто номер назвали в кассе, приятно удивило что билеты мы купили действительно со скидкой (на сайте было указано что на 10% дешевле чем на причале - для троих приятная экономия), и разместились в каюте. Потом пересели на открытую палубу (оделись-то тепло) - очень хотелось видеть питерскую красоту в живую. Экскурсовода было отлично слышно - динамик выведен на улицу. А летом наверное было бы еще круче. Рекомендую!
Translate
Top 5 programs according to passengers