Buy ticket online
Preferential
2880 ₽

3200 ₽
Children's
Up to 12 years
2880 ₽

3200 ₽
Children up to 5 years FOR FREE
Петербург глазами звёзд
Neva travel shipping company
Guide on board
Bar
Live music
Toilet
Duration 2 hours
Excursion languages –
Regularity 19 августа 2020
Free return 3 hours before the tour
The price is lower than on the pier
Любители творчества Антона Авдеева - этот вечер для Вас!
Долгожданная встреча на борту комфортабельного теплохода, где сам город будет выступать в качестве декораций, а талантливый актер Санкт-Петербурга расскажет об истории города, в котором он вырос.
Вас ждут истории об эпохе Петра I и Екатерины II, о достопримечательностях, которые мы будем проходить, любуясь видами Петербурга.
От Благовещенского моста до моста Александра Невского вы не только насладитесь
рассказами о городе, а также услышите любимые музыкальные композиции. Под шум
Волны, с чарующим голосом Антона Авдеева, вы проведете незабываемые 2 часа.
Разместившись за удобными столиками, вы сможете поужинать прекрасно приготовленными блюдами от Шеф-повара.
В качестве комплимента от организатора вам предложат бокал шампанского.
Cruiser Aurora
St Isaac`s Cathedral
Peter and Paul Fortress
The Admiralty
Academy of Sciences
Academy of Arts
Burse
Bronze Horseman
Cabinet of Curiosities (Kunstkammer)
Rostral column
Boat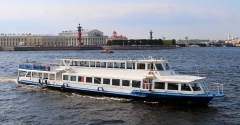 Type
Bar

Yes
Blankets

No
Restroom

Yes
Read more about the boat
Departure pier
Rating and reviews
Thanks for the feedback.
We will read it and publish it.
Top 5 programs according to passengers