There

1080 ₽

1200 ₽
There and back again

1890 ₽

2000 ₽
Buy ticket online
Preferential
There

900 ₽

1000 ₽
There and back again

1485 ₽

1600 ₽
Children's
Up to 12 years
There

630 ₽

700 ₽
There and back again

1080 ₽

1200 ₽
Children up to 2 years FOR FREE
Peterhof - Saint Petersburg
Neva travel shipping company
Toilet
Comfortable armchairs
Duration 40 minutes
Excursion languages –
Regularity daily
Free return 3 hours before the tour
The price is lower than on the pier
In order not to spoil your bright impressions from visiting Peterhof while being stuck in traffic jams and tedious road back, use our high-speed cruisers.
"Golden arrow" fast cruisers will take you with comfort to the center of the city in just half an hour, on your way you will be able to enjoy the views of Saint Petersburg and its outskirts from an extraordinary perspective and take pleasure in looking at the panoramic Finnish gulf.
Sea landscapes of Finnish gulf and sea landscapes of Saint Petersburg will give a way to the ensembles of Grand Neva river, when the cruiser will finish its journey at one of the quays in the very center of the city – Senate or Palace quays.
Arrival quays are located on Neva in transport proximity, next to Palace bridge and Bronze Horseman at Senate square.
Departure of cruiser is held on a regular schedule from quays №1 and №4 from Peterhof.
You may find the ticket offices to print boarding tickets at the quays №1 and №7.
Attention! The price doesn't include the entrance to the park. You can buy the tickets online on the official website of Peterhof.
St Isaac`s Cathedral
Peter and Paul Fortress
The Admiralty
Academy of Sciences
Academy of Arts
Burse
Bronze Horseman
Cabinet of Curiosities (Kunstkammer)
Menshikov palace
Rostral column
Senate and Synod building
Park 300th anniversary of St. Petersburg
Lakhta center
Winter Palace
Peterhof
Passenger port
Stadium "St. Petersburg Arena"
Vansu bridge
Boat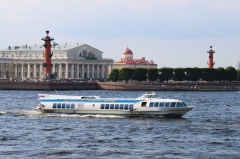 Type
Bar

No
Blankets

No
Restroom

Yes
Read more about the boat
Departure pier
Rating and reviews
Thanks for the feedback.
We will read it and publish it.
Top 5 programs according to passengers