Buy ticket online
Preferential
1800 ₽

2000 ₽
Children's
Up to 12 years
1530 ₽

1700 ₽
Children up to 5 years FOR FREE
Петровский Фестиваль Огня от причалов Аничков мост и Зелёный Мост
Neva travel shipping company
Live music
Saxophone
Toilet
Duration 2 hours 20 minutes
Excursion languages –
Regularity в ночь с 28 на 29 мая 2022 года
Free return 3 hours before the tour
The price is lower than on the pier
Насладитесь незабываемым ночным пиротехническим шоу и разведением петербургских мостов под музыку саксофона.
В ночь с 28 на 29 мая 2022 года в Петербурге состоится «Петровский Фестиваль Огня». В этом году фестиваль, приуроченный к 350-летию Петра I пройдёт у стен Петропавловской крепости.
Мы приглашаем вас полюбоваться этим ярким шоу с борта комфортабельного однопалубного теплохода. Около 01.00 ночи теплоход отправится на просмотр разведения Дворцового и Троицкого мостов, а далее в реку Фонтанка, к причалам отправления, ориентировочное время высадки у причала «Аничков Мост» 01:40, у причала «Зеленый Мост» 02:00.
Важно: Маршрут движения теплохода может быть изменён в связи с подъёмом уровня воды и перекрытием акваторий.
St Isaac`s Cathedral
Peter and Paul Fortress
The Admiralty
Burse
Rostral column
Boat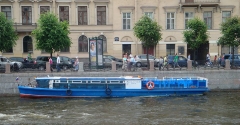 Type
Bar

No
Blankets

No
Restroom

Yes
Read more about the boat
Rating and reviews
Thanks for the feedback.
We will read it and publish it.
Top 5 programs according to passengers