Children's
Up to 12 years
570 ₽

600 ₽
Children up to 5 years FOR FREE
Фестиваль ледоколов с Невы
Neva travel shipping company
Toilet
Comfortable armchairs
Duration 50 minutes
Excursion languages –
Regularity
Free return 3 hours before the tour
The price is lower than on the pier
В эти дни проходит традиционный Фестиваль ледоколов на Неве. Приглашаем вас отправится в интересное водное путешествие по Неве на двухпалубном теплоходе, продолжительность рейсов 50 минут. Старт программы от набережной Лейтенанта Шмидта (наб. Лейтенанта Шмидта, 43).
Boat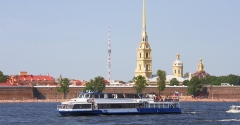 Type
Bar

Yes
Blankets

No
Restroom

Yes
Read more about the boat
Rating and reviews
Thanks for the feedback.
We will read it and publish it.
Top 5 programs according to passengers