Экскурсионный тур на метеоре в Стрельну
Neva travel shipping company
Guide on board
Day tour
Walking tour included in the tour
Toilet
Duration 4 hours 30 minutes
Excursion languages – Русский
Regularity по расписанию
Free return 3 hours before the tour
The price is lower than on the pier
Приглашаем Вас посетить новую экскурсионную программу в ближайший пригород Петербурга Стрельну.
Дорога из центра Петербурга на скоростном судне на подводных крыльях в этот живописный пригород займёт всего 30 минут и Вы, в сопровождении экскурсовода, направитесь на прогулку по чудесному парку и величественному Константиновскому дворцу. В программу также включен обед в ресторане "Яхт-клуб", который находится в Пресс-центре «Государственного комплекса «Дворец конгрессов» на самом берегу Финского залива.
После окончания насыщенной экскурсионной программы и вкусного обеда метеор привезёт Вас обратно, к причалу от которого Вы отправлялись в путешествие.
Внимание:
* Возрастная категория 6+
* Продолжительность программы может быть изменена в связи с подъёмом уровня воды и перекрытием акваторий
* Любительская фото- и видеосъемка разрешена, бесплатно.
* Обед состоит из первого блюда, горячего, салата, напитка
St Isaac`s Cathedral
Peter and Paul Fortress
The Admiralty
Academy of Sciences
Academy of Arts
Burse
Bronze Horseman
Cabinet of Curiosities (Kunstkammer)
Rostral column
Konstantinovsky Palace
Boat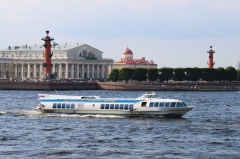 Type
Bar

No
Blankets

No
Restroom

Yes
Read more about the boat
Departure pier
Rating and reviews
Thanks for the feedback.
We will read it and publish it.
Top 5 programs according to passengers