Buy ticket online
Preferential
3600 ₽

4000 ₽
Children's
Up to 12 years
3600 ₽

4000 ₽
Children up to 5 years FOR FREE
Концерт феерия Олега Алмазова
Neva travel shipping company
Bar
Live music
Duration 2 hours
Excursion languages –
Regularity 4 июня 2022 года
Free return 3 hours before the tour
The price is lower than on the pier
На борту комфортабельного двухпалубного теплохода класса «Москва», где сам город будет выступать в качестве декораций, героем и активным участником событий; а самый талантливый, самый востребованный актер Санкт-Петербурга расскажет о легендах Северной столицы. Олег увлечёт вас историями о Медном Всаднике, о мистических тайнах, которые бродят у его подножья; о загадочных сфинксах; о золотой гайке Большеохтинского моста; о тайнах Петропавловской крепости; о том, кто привез зеркало графа Дракулы; о достопримечательностях, мимо которых мы будем проходить, любуясь видами города.
Часть программы будет музыкальной - Олег исполнит свои и ваши любимые песни
Добро пожаловать на борт!
Информируем Вас, что ваши места будут располагаться в 1 секторе
Необходимо уточнять информацию о наличии билетов.
Приятного путешествия!
Cruiser Aurora
St Isaac`s Cathedral
Peter and Paul Fortress
The Admiralty
Academy of Sciences
Academy of Arts
Burse
Bronze Horseman
Cabinet of Curiosities (Kunstkammer)
Menshikov palace
Rostral column
Senate and Synod building
Boat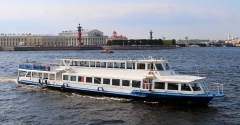 Type
Bar

Yes
Blankets

No
Restroom

Yes
Read more about the boat
Rating and reviews
Thanks for the feedback.
We will read it and publish it.
Top 5 programs according to passengers