Buy ticket online
Preferential
3465 ₽

3300 ₽
Children's
Up to 12 years
180 ₽

200 ₽
Children up to 2 years FOR FREE
StereoCruise
Neva travel shipping company
Bar
Toilet
Comfortable armchairs
Duration 25 minutes
Excursion languages –
Regularity July 6-7
Free return 3 hours before the tour
The price is lower than on the pier
July 6-7, the Tinkoff STEREOLETO festival takes place in Sevkable Port, the harbor of Vasilyevsky Island with the most fantastic view of the Neva and the Gulf of Finland. Sailing to the festival by boat is the most unusual way to get to the place and already on board, listening to the music of DJ from Stereoleto, plunge into the musical atmosphere of the summer weekend.

If you already have entrance tickets to the festival and you want separate tickets for the ship, go here!

The Tinkoff STEREOLETO festival venue in 2019 is a huge territory, 5 scenes completely different in design and concept, a variety of indoor and outdoor lounge areas, art objects from young St. Petersburg designers, as well as traditional stereofood, stereomarket, stereofun and now stereocruise!

July 6: Mumiy Troll, AURORA, Coin, EMIKA, Shortparis, Fontaines DC, Kito Jempere Band, kachevniki, Kazuskom, Oligarkh, parks, Squares and Alleys, VLNY, Tosya Chaikina, ssshhhiiittt !, Ouzo Bazooka, ours, ours, Oshzo Bazooka; Cleanin Women, Ashilevi.

July 7: Rag'n'Bone Man, Little Big, Son Lux, Algiers, IC3PEAK, LAUD, Affine, AIGEL, Intourist, Say Yes Dog, Super Collection Orchestra Karpov not Kasparov, as well as the IONOTEKA stage - with the most interesting and promising names modern underground.
ATTENTION! Discount promotional codes and gift certificates are not valid for these tickets.
St Isaac`s Cathedral
The Admiralty
Academy of Sciences
Academy of Arts
Bronze Horseman
Cabinet of Curiosities (Kunstkammer)
Menshikov palace
Vansu bridge
Sevcable Port
Boat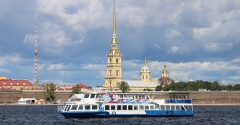 Type
Bar

Yes
Blankets

No
Restroom

Yes
Read more about the boat
Departure pier
Rating and reviews
Thanks for the feedback.
We will read it and publish it.
Top 5 programs according to passengers