Scarlet Sails Show at the Senate Marina
Toilet
Rugs for rent
持續時間 2 2 小时
遊覽語言 –
規律性 23 of June at 23:45
出发前两小时免费退票
价格比在码头上的低。
The graduation celebration Scarlet Sails is one of the biggest holidays in the waters of St. Petersburg. Spectators are going to see a memorable light-pyrotechnic show in the central area of the Neva.
Under the light of numerous fireworks on the water, there will be a multimedia performance unfolding, with its pinnacle at a glide along the embankments of the ship with the red sails. The sailboat passes along the Neva accompanied by classical music and grand fireworks, symbolizing the hope and fulfillment of desires. According to the preliminary information, this year's show will take place on the night of June 23-24.
Every year about a million viewers gather to watch the show. Crowds of people fill all the free space on the embankments. In such conditions, only those who are lucky enough to take a place in the front row can see something.
We invite everyone to enjoy an unforgettable spectacle from the most favorable angle and in comfort at the board of our motor ships.
Departure from the city pier Senate Marina (English Embankment, 2) at 23:45.
On a comfortable single deck boat, you will go on a festive water trip, where a music program is prepared for you on board, which will amuse you while waiting for the show.
The ticket price includes a drink of your choice - champagne, juice or mineral water.
During the show, our ship will be located at the Palace Bridge, the distance to the heat of the celebration is just 600-700 meters.
ATTENTION! Purchased tickets are recommended to be printed out or collected in advance in our ticket offices at any pier convenient for you. Promo and discount codes don't apply for these tickets. 
St Isaac`s Cathedral
The Admiralty
Academy of Sciences
Academy of Arts
Burse
Bronze Horseman
Cabinet of Curiosities (Kunstkammer)
Menshikov palace
Senate and Synod building
汽船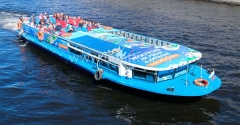 阅读更多关于船的信息