Scarlet Sails Show on behalf «Moscow» hotel
Bar
Live music
Toilet
Comfortable armchairs
持續時間 2 2 小时 30 30 分钟
遊覽語言 –
規律性 23 of June at 11:00 pm
出发前两小时免费退票
价格比在码头上的低。
This feast of school graduates is on of the biggest celebrations on water and it takes place in Saint Petersburg. Spectators will be amazed by a remarkable ceremony with lights and fireworks that will take place in the center of Neva river aquatorium.
Under the bright lights of fireworks a multimedia performance will unfold on the water, the culmination of it will be a grand ship with crimson sails. The route of the sail-ship will happen to the strains of classical music and a grand firework show that symbolizes hope and wish fulfillment. This year the show will take place at night from 23d to 24th of June.
Each year millions of people gather to watch the show. The crowds flood the embankments. It's hardly ever possible to witness even the slightest bit even if you take the first rows.
We invite everyone wishing to attend to savor the unforgettable spectacle from the best angle – the broadsides of our cruisers.
Departure will take place from the public quay opposite "Moscow" hotel (Sinopskaya embankment, 28) at 11 pm.
On a comfortable double-deck cruiser with a marvelous live band on-board, you will embark on a naval journey.
At the time of the show our cruiser will be in between of Trinity and Liteyniy bridges just in 600-700 meters from the main event. The show will begin at 00.40.
There is a bar on-board where you will be able to order light drinks and appetizers.
 "Scarlet Sails" feast has been awarded with European Best Event Award and is truly the best city event in Europe that must never be missed and must be enjoyed from the best angle – the broadsides of a cruiser.
ATTENTION! Purchased tickets are recommended to be printed out or collected in advance in our ticket offices at any pier convenient for you. Promo and discount codes don't apply for these tickets.
Cruiser Aurora
Peter and Paul Fortress
Burse
Rostral column
Marble palace
Summer Garden
汽船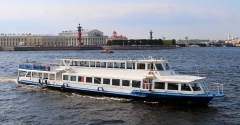 阅读更多关于船的信息
路線
Причал «Гостиница «Москва»
Причал «Гостиница «Москва»