There

1330 ₽

1400 ₽
There and back again

2375 ₽

2500 ₽
Preferential
There

1140 ₽

1200 ₽
There and back again

1995 ₽

2100 ₽
Children's
Up to 12 years
There

715 ₽

750 ₽
There and back again

1235 ₽

1300 ₽
Children up to 5 years FOR FREE
Рейс на двухпалубном теплоходе из Петергофа в Петербург
Neva travel shipping company
To Peterhof
Duration 2 hours
Excursion languages –
Regularity
Free return 3 hours before the tour
The price is lower than on the pier
Круиз по Финскому заливу – самый интересный способ добраться в Петербург из Петергофа. Это гораздо удобнее, чем ехать на автобусе.
Мы рекомендуем покупать билеты онлайн, так как в кассе на причале вы можете попасть в очередь и уехать совсем не в то время, в которое планировали.
Внимание! В стоимость билета не входит посещение парка. Билеты в парк продаются только онлайн на официальном сайте ГМЗ «Петергоф»
Онлайн-билеты именные, поэтому у посетителей обязательно должен быть с собой паспорт.
При отсутствии паспорта во входе в парк будет отказано.
Время работы Парка с 10:00 до 19:00.
Остальные правила посещения ГМЗ Петергоф по ссылке https://peterhofmuseum.ru/news/2020/1028
Boat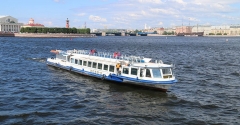 Type
Bar

No
Blankets

No
Restroom

Yes
Read more about the boat
Rating and reviews
Thanks for the feedback.
We will read it and publish it.
Top 5 programs according to passengers