Buy ticket online
Children's
Up to 12 years
720 ₽

600 ₽
Children up to 5 years FOR FREE
Music of the drawn bridges
Neva travel shipping company
Live music
Toilet
Comfortable armchairs
Duration 2 hours
Excursion languages –
Regularity At 00:30
Free return 3 hours before the tour
The price is lower than on the pier
Overnight musical journey past the drawn bridges – one of the most popular in Saint Petersburg. It's chosen by couples in love and romantics alike.
During this fascinating naval journey through the city at night you will witness stunning views of our marvelous, glowing city on Neva river, accompanied with live music and singing.
The route
You will see saluting drawn bridges, plunge into the magical atmosphere of Neva river, you will feel unique energy of Saint Petersburg. You will see six bridges: Palace bridge, Stock Exchange bridge, Liteyniy bridge, Trinity bridge, Annunciation bridge and Alexander Nevsky bridge.
What can possibly be better than live music and beautiful views of Saint Petersburg…
You will sail to the strains of live music, popular hits of 20th century performed live. You will find yourself in a floating club, where you can listen to music, dance and breath in the air of leisure.
You will gaze upon the city landscape from the broadsides of a comfortable double-deck cruiser. You'll be able to take a comfortable place on a sofa, sit at a coffee table or enjoy the views from the open deck.
And if are puzzled how to impress your significant other, or you are looking for a place to spend time with friends, embark on the journey beneath the drawn bridges.
Attention! Regardless of the departure quay, in the end the cruiser will arrive at the Palace quay next to the Hermitage.
Cruiser Aurora
St Isaac`s Cathedral
Peter and Paul Fortress
The Admiralty
Academy of Sciences
Academy of Arts
Burse
Bronze Horseman
Cabinet of Curiosities (Kunstkammer)
Menshikov palace
Rostral column
Senate and Synod building
Kresty Prison
Alexander Nevsky Lavra
Marble palace
Smolny cathedral
Summer Garden
Boat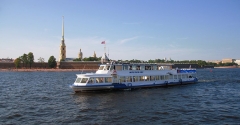 Type
Bar

No
Blankets

No
Restroom

Yes
Read more about the boat
Rating and reviews
Thanks for the feedback.
We will read it and publish it.
Top 5 programs according to passengers