There

1380 ₽

1450 ₽
There and back again

2190 ₽

2300 ₽
Buy ticket online
Preferential
There

1190 ₽

1250 ₽
There and back again

1855 ₽

1950 ₽
Children's
Up to 12 years
There

810 ₽

850 ₽
There and back again

1235 ₽

1300 ₽
Children up to 2 years FOR FREE
трансфер из Кронштадта в СПб с причала Остров Фортов
Neva travel shipping company
Duration 1 hour
Excursion languages –
Regularity Ежедневно
Free return 3 hours before the tour
The price is lower than on the pier
Трансфер на скоростном метеоре самый удобный способ добраться из города Морской Славы Кронштадта в центр Санкт-Петербурга.
Посадка на скоростное судно осуществляется на причале Остров Фотов (Кронштадт, Цитадельское ш., 14)
Будьте внимательны при выборе программы и причала. Посадка на метеор осуществляется с того причала от которого у Вас приобретён билет.
Желаем Вам приятного путешествия!
Boat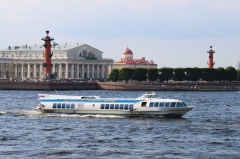 Type
Bar

No
Blankets

No
Restroom

Yes
Read more about the boat
Departure pier
Rating and reviews
Thanks for the feedback.
We will read it and publish it.
Top 5 programs according to passengers