Buy ticket online
Children's
Up to 12 years
495 ₽

550 ₽
Children up to 5 years FOR FREE
Город на островах
Guide on board
Toilet
Duration 2 hours
Excursion languages – Русский
Regularity
Free return 3 hours before the tour
The price is lower than on the pier
Новый незабываемый маршрут предлагает полюбоваться видами городских набережных Невы и величественными Петербургскими островами.
Помимо достопримечательностей парадной Невы вы увидите дворцы и парки Крестовского, Елагина и Каменного островов. Эти уголки старого Петербурга необычайно красивы, хотя подчас незаслуженно «забыты» туристами.
Экскурсовод расскажет увлекательные истории про старинные парки, роскошные загородные дворцы петербуржских аристократов – все эти красоты часто оказываются в стороне от проторенных туристических троп. Не упустите возможность посетить излюбленные места отдыха горожан с восемнадцатого века и до наших дней!
Во время прогулки теплоход пройдет по Большой Неве, Малой Неве (или реке Ждановке) и Большой Невке.
Ваше двухчасовое путешествие состоится в любую погоду и будет очень комфортным – теплоход имеет открытую палубу и застекленный салон с панорамными окнами.
Cruiser Aurora
Peter and Paul Fortress
The Admiralty
Cabinet of Curiosities (Kunstkammer)
Elagin Palace
Boat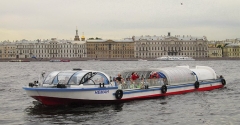 Type
Bar

No
Blankets

No
Restroom

Yes
Read more about the boat
Rating and reviews
Thanks for the feedback.
We will read it and publish it.
Top 5 programs according to passengers